Procedure to order dormant grape cuttings from Foundation Plant Services
Step 1 – Understand Products and Eligibility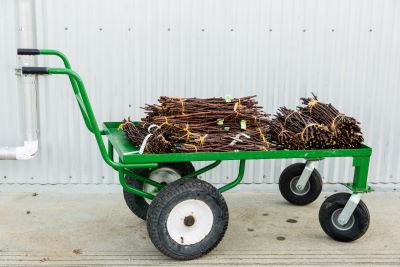 Foundation Plant Services provides virus tested dormant grape cuttings. We do not provide rooted plants; these cuttings must either be grafted to rootstock or induced to form their own roots. This requires some horticultural expertise. The customer accepts responsibility for being able to propagate dormant cuttings into live plants. FPS cannot provide horticultural advice. Due to the breadth of our collection, we do not have large amounts of all varieties. Many varieties only have 2 vines and our available material will reflect this.
Minimum Order and Costs The minimum material fee at FPS is $100. (Prices here) Shipping is an additional 15%. Orders shipped outside of California require an additional phytosanitary certificate costing ~$50. Some states (Oregon and Washington) require additional testing and/or pesticide dip treatments; in these cases additional charges will be added to the order. The minimum total cost (material, certificates, shipping) for an order outside of California is $165.
FPS ships throughout the United States, but we cannot distribute material internationally.
Step 2- Identify the Varieties and Selections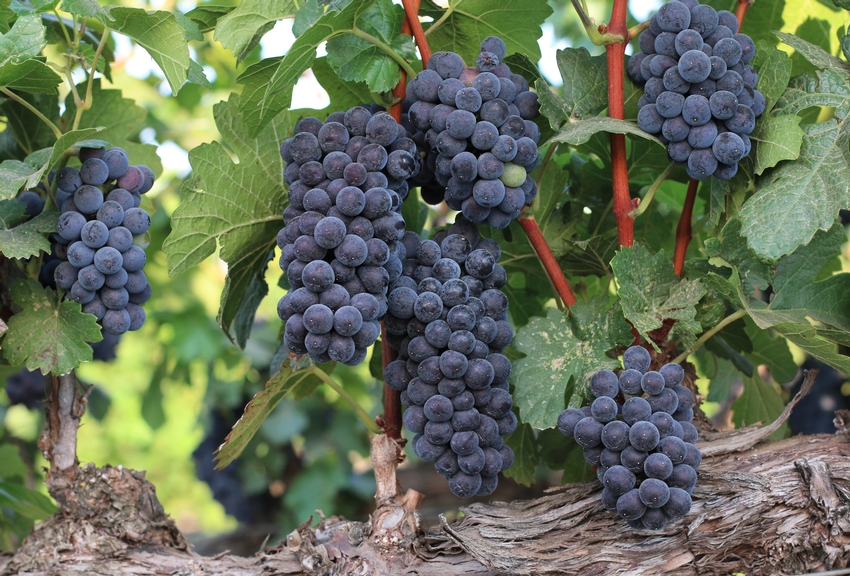 At FPS, grapes are organized by variety (Merlot, Chardonnay, Pinot Noir) and by selection. (Merlot 08, Chardonnay 27, Pinot Noir 123). The selection number represents different sources for the variety. You can see all of our available grape selections here: https://fps.ucdavis.edu/fgrselections.cfm
If you need help choosing a variety or selection, we recommend that you consult with your County Cooperative Extension Advisor. In California you can find your local office here: https://ucanr.edu/About/Locations/. Your local advisor specializes in understanding the growing conditions in your local area. FPS is not able to provide any horticultural advice.
Many selections are listed as 'proprietary'. This means the intellectual property for these selections is managed by another university, breeder, winery, etc. Permission will need to be granted by the proprietary rights holder before we can distribute the material. Many times, this proprietary material will not be available to the public.
Step 3 – The Order Process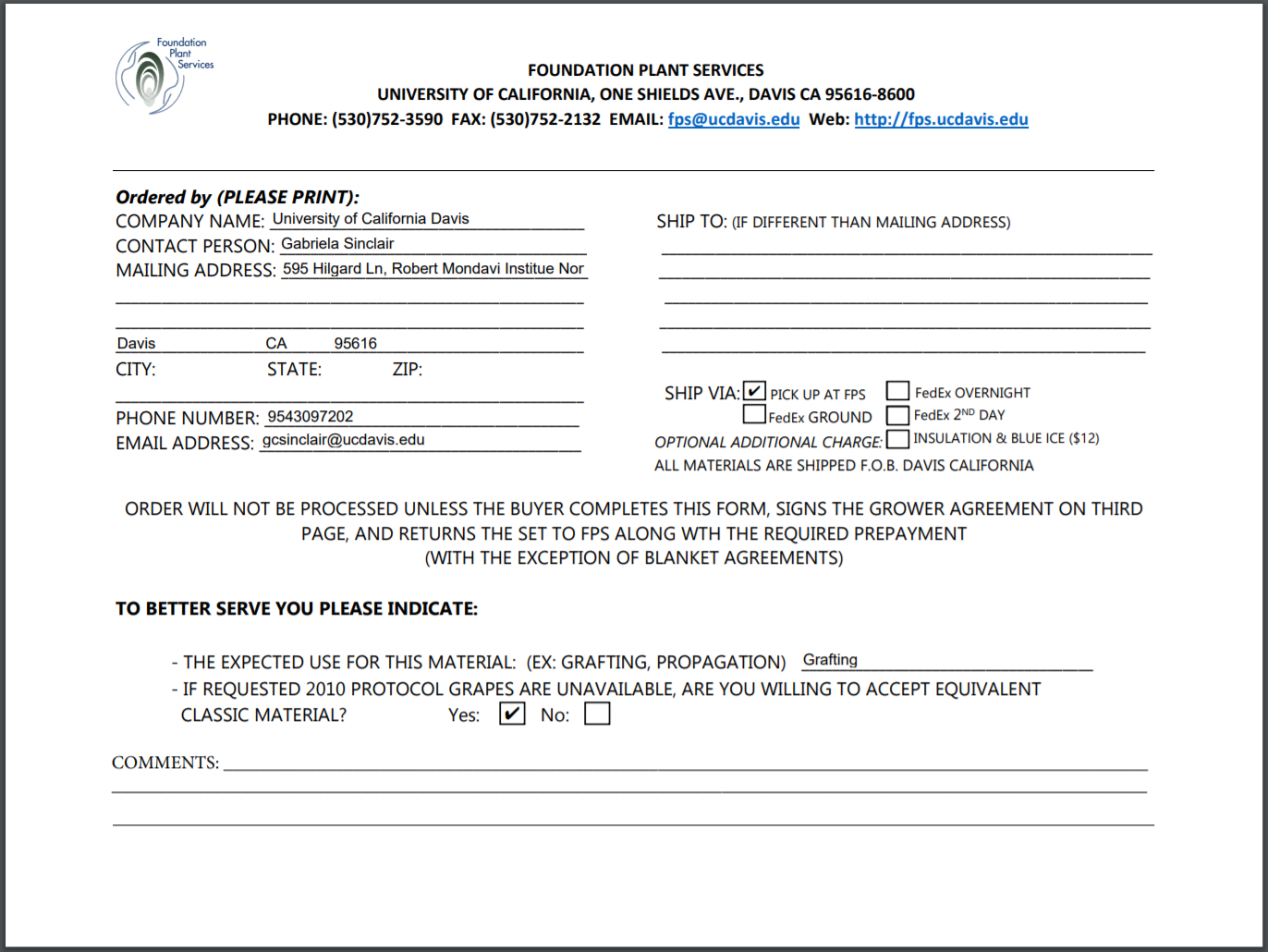 To place an order with Foundation Plant Services, you will need to submit a signed copy of the order form and grower's agreement. This form can be downloaded from this page:
https://fps.ucdavis.edu/fgrmaterials.cfm
. That form mentions 'user fees'.
If you do not propagate the material from FPS, you are not required to pay a user fee.
Most of our customers print the order form, add their signature, scan the form and then email it back to [email protected] . You may also mail or fax to us. Orders are not considered to be received unless we have the signed form. After the order has been reviewed by FPS and entered into our system, you will receive a Cost Estimate via email. This will give you an opportunity to review the order and make changes or corrections as necessary. The cost estimate is not a guarantee of availability, it is verification of the selections and quantities ordered.
Step 4 – Deadlines and Allocation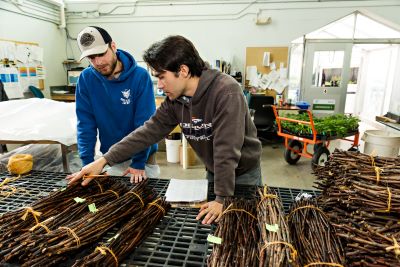 Orders must be received by November 15th to be considered for material distribution in February/March.
All orders received by November 15th will be considered for allocation the following February/March. If multiple requests are made for the same limited material, the available cuttings will be divided amongst the orders received by the deadline. This is very important in that an order may receive a much smaller amount depending upon what is available. California Department of Food and Agriculture (CDFA) Registered and Certified nurseries receive priority on this allocation.
All material is held in cold storage while waiting for distribution. Material is stored and handled carefully to ensure top quality material leaves FPS.
Step 5 – Payment and Delivery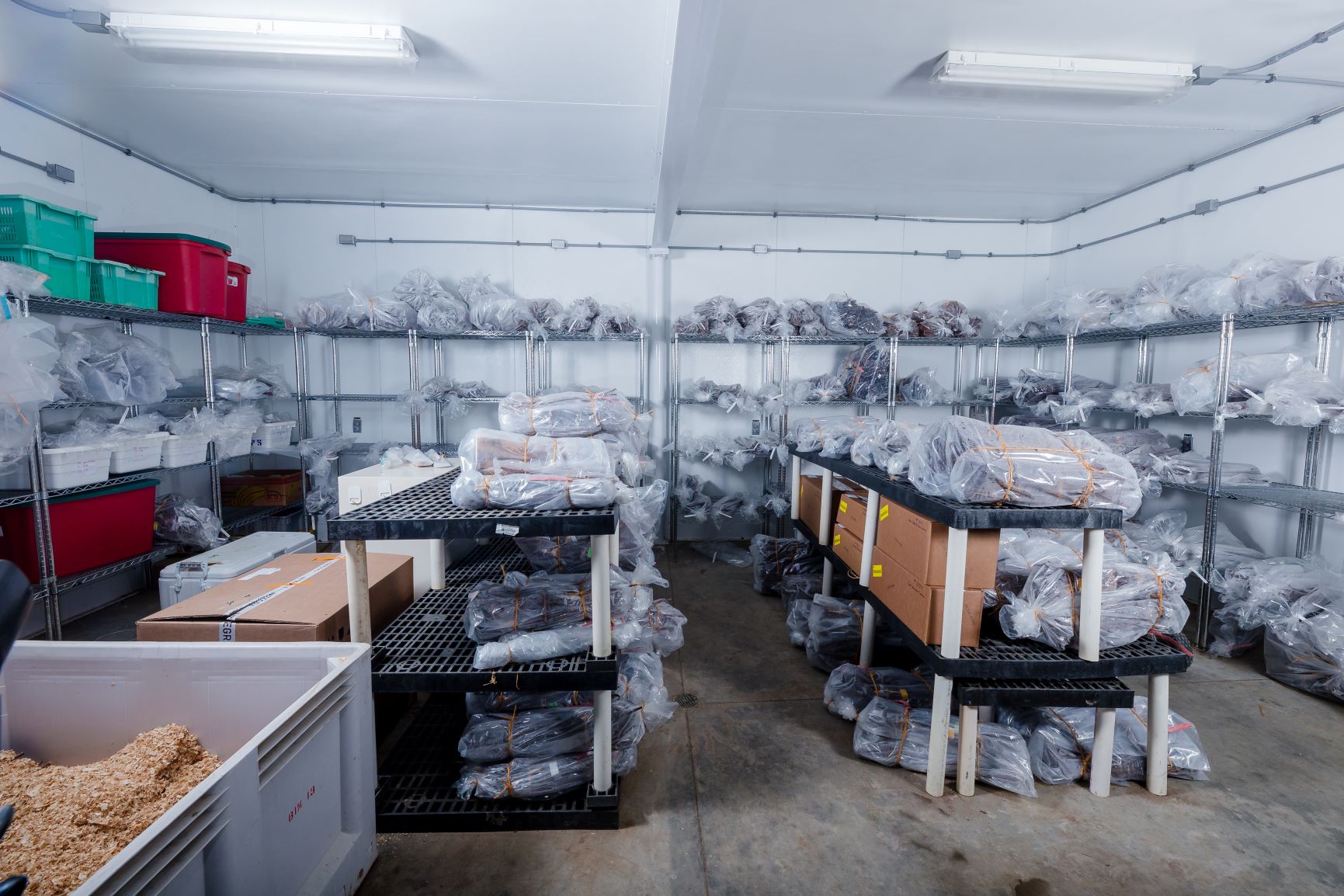 After collection of the material from our vineyard, your order will be assembled and exact cost determined. Payment is required before the order is packed and shipped. The preferred method of payment is credit card. An electronic invoice will be sent after notification. Once payment is made the order can be shipped.
Orders are typically shipped out Monday and Tuesday. We avoid shipping on days where the receiver may not be able to properly store the material in a timely manner upon arrival.
Also, please review the Terms below:
Important Terms of Order - Please Read
Material Allocation Policy
FPS plant materials are allocated among all orders received and confirmed before deadlines described above each year. Orders are considered confirmed upon receipt of an original signed order form. In the event requests for materials exceed the available supply, materials are allocated according to an established priority system prioritizing CDFA Registered and Certified Nurseries. Any remaining materials are sold on a first-come, first-served basis to customers submitting orders after the deadline.
Prices & Minimum Order Charge
There is a minimum order charge of $100.00 per order for plant material, excluding commericial nurseries with a Blanket Agreement in place. Minimum quantity requirement of 5 identical items requested for each selection, except in the case of strawberries. The price will be calculated according to the number of identical units ordered. Commercial nurseries are encouraged to open a Blanket Agreement.
International Orders
At this time, FPS is selling plant materials only in the United States; we are not exporting to other countries.
Order Pickup/Shipping and Packing & Handling Charges
All orders are shipped F.O.B. Davis, California. Buyer agrees to pay all costs of transportation and assumes all risk of loss during shipment. No shipping or packing & handling fees are charged for orders picked up at the FPS facility; FPS asks that all orders for plant material be picked up within 30 days of notification that they are ready for pickup. FPS reserves the right to assess customers for storage of materials not picked up after 30 days.
For all orders that are shipped to customers, shipping and handling fees of 15% of material are added to the order.
Additional Phytosanitary Certificate, Testing, and Treatment Requirements
For out of state shipments, customers will be charged at actual cost for any required phytosanitary certificates ($50.30) and additional testing. Where pesticide or hot water treatment is required, customers will be charged a fee of $150.00. Customers will be charged at actual cost for any required quarantine compliance certificates. They will also be charged for any additional diagnostic testing required beyond normal FPS protocols.
Policy on Cancellations and Changes to Orders
Because FPS materials are custom collected and prepared for each customer, cancellations are not accepted once material has been collected. Additions to orders will receive allocation priority according to the date they were added. FPS reserves the right to bill for materials that are cancelled once they have been collected or prepared.