Grape Program at Foundation Plant Services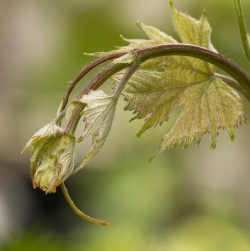 The story of the Foundation Plant Services (FPS) Grape Program at the University of California, Davis (UC Davis) is the history of the efforts to provide researchers and industry with healthy, true-to-variety grapevine planting stock. The grape industry has benefitted from its earliest years by the introduction of better wine, table grape, and rootstock varieties from around the world. UC Davis plant pathologists have been world leaders in technology for grape virus disease detection, identification, and therapy. UC Davis viticulturists have provided the vision and expertise to ensure that the FPS grape collection represents the great diversity of grape plant materials needed by a vital and ever-changing industry.
Severe virus disease problems in California vineyards during the 1950s spurred UC and USDA scientists to develop methods for grape virus disease detection and disease elimination. A large collection of disease-tested wine, table, raisin and rootstock grape selections was created which became the foundation for the California Grapevine Registration & Certification (R&C) Program. The current Foundation Vineyards of over 100 acres are all established on fumigated soil in isolated locations. Vines are inspected and retested regularly by FPS and CDFA. FPS is the source of all California Registered or Certified grapevines. Highly sought-after foreign grape selections are processed through quarantine for the grape and wine industries. Testing normally requires two years, but if virus diseases are found, therapy and retesting may take much longer. The FPS foundation grapevine collection has undergone a process of professional identification using both ampelographic observations and DNA analysis.