FPS Grape Introduction Services
Custom testing and disease elimination services are available through execution of a custom Service Agreement with the University. To initiate this service, please contact FPS at:
Cost for Services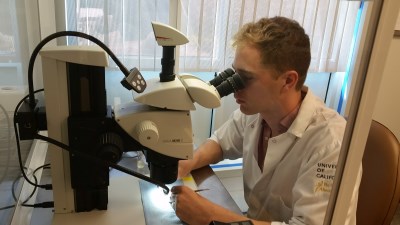 Testing and Treatment: Complete disease testing panel and concurrent disease elimination therapy by microshoot-tip tissue culture or heat therapy (including pre- and post-therapy testing panels) to qualify foreign and domestic selections for release from federal quarantine and/or inclusion in the CDFA Registration and Certification Program. Timeline for this service is approximately 2-8 years.
Last update: 3 April, 2023.
Current Prices:
$2,500.00 per public selection
$4,500.00 per proprietary selection
Inclusion in Foundation Vineyard: Plant and maintain qualified proprietary grape selection in the FPS Foundation Vineyards.
Current Prices:
$650 per selection for initial planting
$200 per year per selection thereafter
Obtain permission to propagate source materials in the USA
According to the service agreement between the customer and FPS, the customer (not FPS) is responsible for obtaining permission to propagate all grape materials submitted for custom services. It is a good idea to have a written record of this permission. The FPS service agreement states that "The Customer hereby represents and warrants that it has legal title to, and has the right to propagate the Selection(s) submitted for custom services."
Submitting Plant Material
Please collect 25-30 fresh, fully dormant hardwood cuttings from a single source vine for each variety/selection to be supplied. The optimum size for the cuttings is 18"-20" (40-50cm) long and 3/8" to 1/4" (6-9 mm) in diameter. If you are unable to supply the optimum number and size of cuttings, please send all of the cuttings of all sizes that can be collected from a single source vine for each variety/selection. Please note that, if you are unable to send the requested number or size of cuttings, the treatment/testing period may be significantly extended to prepare the additional needed propagations for pathogen testing purposes. Each bundle of cuttings from a single source vine must be bundled together and labeled with variety name, selection or clone number, source vineyard, and source vine location (if known). The cuttings should be enclosed in a sealed plastic bag with a very small amount of moisture, packed in a rigid cardboard box or tube, and kept in cold storage until the day of shipment.