The FPS Fruit & Nut Tree Program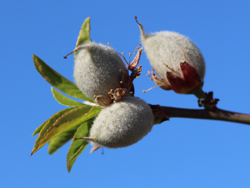 The orchard at Foundation Plant Services, University of California, Davis, is maintained as an elite source of propagation materials (G1) of various Prunus fruit and nut trees as part of the California Fruit and Nut Tree Certification Program. The existing foundation orchard in the Goheen block consists of approximately 16 acres of trees. The tree collection includes proprietary selections from the UC Davis Plant Sciences Breeding Program. The orchard in the Goheen block is now planted at capacity, with room for future acquisitions in the new orchard block at Russell Ranch.
As part of a cooperative effort for the National Clean Plant Network (NCPN), FPS serves as the backup virus-tested collection for publicly available, commercially desirable fruit tree cultivars maintained for the U.S. tree industry. The primary NCPN Fruit Tree center is the Clean Plant Center Northwest, Washington State University, in Prosser, Washington. The climate in California is conducive to growing more robust budwood for sale to nurseries and growers. FPS recently received numerous tree selections from the program at Prosser to be used as needed for budwood for the fruit tree industry.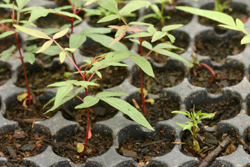 In 2014, 249 trees representing 66 different selections (51 received from Prosser) were planted at Russell Ranch, filling approximately 1.25 acres of 4 available acres of allocated orchard space. The FPS fruit and nut tree collection now contains a total of 276 selections for a total of 1,243 scion wood and seed trees. The almond, apricot, cherry, nectarine, peach, and plum are planted in replicates of four and are pruned as budwood sources. There are approximately 30 rootstock selections.
All FPS foundation stock trees have been field tested on a panel of disease indicator cultivars at FPS or have been obtained directly from the program at Prosser. Each year, on a rotating basis, one third of the trees are tested by FPS staff for viruses using the indicator Shirofugen Cherry and the remaining two-thirds are ELISA tested. University plant pathologists, California State, Yolo County, and FPS staff visually inspect the trees each spring and summer.
FPS distributes its plant material primarily to California nurseries for the creation of the next generation of disease-tested and professionally-identified budwood sources.