Foundation Plant Services - News
---
---
---
---
Winery owners' gift supports clean, sustainable agriculture

Dean Dillard arrived at Foundation Plant Services (FPS) Monday morning expecting to attend a meeting to discuss FPS's work on behalf of the grape industry with Director Deborah Golino and John Dyson, owner of Williams Selyem Winery. So she was quite surprised when John announced his intention to give his first gift to UC Davis $500,000 toward a new endowed chair.

"I am giving this gift to honor the Deanship of my friend Helene", Dyson said in making the surprise announcement. "and to recognize Deborah Golino who has taken on a challenging position and has instituted rigorous science to give wineries clean vines. I have a great deal of respect for her work." A New York native, Dyson worked closely with Dean Dillard while she was Director of Cooperative Extension and on the faculty at Cornell University's College of Agriculture and Life Sciences. His relationship with Foundation Plant Services goes back even further to when he purchased cuttings from the foundation for "a nickel a piece"" in the 1980s to plant his first vineyards. Since then, Dyson has relied on the scientists at FPS to provide grape propagating material and to help him tackle challenges that face all growers, like plant and soil disease.

"This is an incredible investment in our program,"" said Golino. "An endowed chair will ensure UC Davis will always be able to recruit a top scientist to lead FPS and continue to provide exceptional plant materials to the grape, rose, strawberry and other industries who rely on us."

Mr. Dyson's gift is the first toward a larger $1.5 million campaign to create the Foundation Plant Services Endowed Chair. Ultimately, the chair holder will serve as the director of FPS and become a faculty member in the Department of Plant Pathology.
For more information about making a gift to the endowed chair, contact Christine Schmidt at cmschmidt@ucdavis.edu.
---

The university maintains an exhaustive public database of grapevine cultivars and rootstocks available in the United States known as the National Grape Registry, as well as running an impressive nursery company selling virus-free versions of these vines, Foundation Plant Services. Known as FPS, this is the only dedicated grape importation facility in the country, which means that most vine material brought legally into the US goes through its doors.
---

Maher Al Rwahnih, a project scientist with Foundation Plant Services, has won the Lee M. Hutchins Award from the American Phytopathological Society. The award is given to the author of published research on the diseases of perennial fruit plants.
---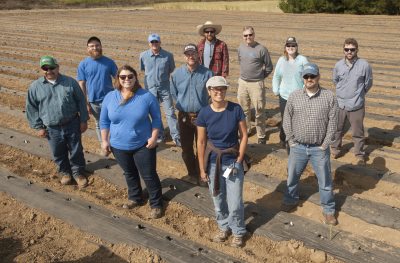 Industry upbeat about new UC Davis strawberry breeding research
Strawberry farmers and industry leaders say new science, education and collaborations underway at the UC Davis Public Strawberry Breeding Program bode well for the quality and sustainability of strawberries in California. The breeding program has launched a large-scale genetic disease-resistance experiment, added students and staff researchers to its expanding team, and planted strawberry-yield trials on five farms from Ventura to Watsonville.